Menu
Home
Mexican Cuisine
Note
×
Some of our dishes have not a picture, we're working on it, thank you for understanding.
(click to close this message)
Burritos & Tortillas
Served with delicious rice and salad
Morelia
Beef burrito in salsa ranchera and chicken enchilada in poblano sauce.
East L.A.
Chicken chimichanga and beef burrito in salsa ranchera
Cancun
Seafood burrito and seafood enchilada in a green poblano sauce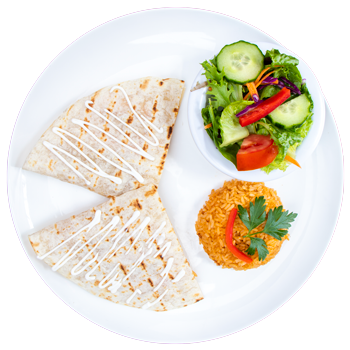 Quesadillas
Flour tortillas filled with cheese and your choice of chorizo (our recommendation) or chicken, baked and topped with sour cream. Try them once, you'll be hooked!
Pollo poblano
A tender chicken breast smothered in our chef's own creamy poblano chile sauce
Mole de pollo
Pieces of juicy chicken slowly simmered in our very own mole sauce. With a full, rich flavour (and not at all spicy), our mole sauce is made from over forty ingredients, including chocolate.
Taquitos
3 crispy flour or corn tortillas stuffed with your choice of chicken or beef, topped with sour cream, cheese and guacamole sauce
Appetizers
Guacamole
As tastes of Latin love go, this is the one! We use nothing but the ripest, silkiest avocados and add lime juice and seasonings. Crowned with pico de gallo and served with tortilla chips. Sweet as a stolen kiss!
Flautas
Four corn tortillas stuffed with mashed potatoes rolled up, and cooked to a light crispiness. Topped with lettuce, pico de gallo, and cheese.
Queso fundido
Melted cheeses with a choice of chorizo, rajas poblanas, or mushrooms, served with three (3) tortillas.
Tapas
A platter of Mariachi's sensual hors d'oeuvres for two. This assortment of finger foods changes daily. Possibilities include: flautas, veggie quesadilla, guacamole and other delights to tickle your tastebuds.
Elotes al grill
A antojito of Mariachi's very yummy with 2 pieces of corn on the cob, rubbed with al grill creamy Mexican sauce, queso fresco & dried chiles.
Sopa de Lima
Our chicken soup is loaded with lime to give it an extra tang. Garnished with tortilla Lima chips and cheese, it's Mexcio's answer to chicken noodle soup!
Ensalada
Named after our original, talented chef, this green salad with avocado, mix of green, green & red pepper, grated carrot, tomatoes, sesame seed, and feta cheese. (Add grilled chicken breast).
Steak & Fajitas
Mariachi's Fajitas
The speciality of the house, you can choose from chicken, chorizo or striplon.
Carne a la Tampiqueña
A tender, Sirloin steak cooked to your liking and topped with green tomatillo sauce, and sautéed cactus. Served with pico de gallo, rice, beans and a mole enchilada
Carne a la Michoacana
Grilled strips of Sirloin steak finished with a delicate tequila ranchera and guajillo sauce.
Don Ignacio
Sirloin steak is grilled to perfection and captures his fire with our homemade chipotle sauce. Served with grilled onions, rice, beans, and 2 flautas.
Vegetarian Fajitas
Our version of fajitas for veggie lovers
Fajitas del Mar
Our seasoned and grilled shrimp fajitas; served with all the fixings.
Seafood & México
Camarones al Infierno
Main course-sized order of shrimp in our spicy chipotle and tequila sauce.
Camarones Lupita
Our shrimp in tomatillo sauce with cactus.
Camarones al Ajillo
Our shrimp in garlic sauce.
Ceviche de Pescado
Delicious raw fish cut into pieces, with lemon juice, chopped onion, pepper and salt.
Ceviche de Camaron
Ceviche cooked with fresh shrimp, whole and peeled, marinated with lemon juice
Ensalada de Camaron
Our shrimp with the mariachi's salad style.
Camaron al Grill
Shrimp accompanied by a honey and ginger BBQ sauce, these shrimp will give what to talk for several days..
Cancun
Seafood burrito and seafood enchilada in a green poblano sauce.
Fajitas del Mar
Our seasoned and grilled shrimp fajitas; served with all the fixings.
Tacos Fish
Three corn tortillas with Chilean Sea Bass, served with our own chipotle sauce tartar.
Tacos de Shrimp
Three corn tortillas with Jumbo shrimp, served with our own chipotle sauce tartar.
Desserts
Churros
Three light, crispy pastry fingers, served with fresh fruit and cajeta, a subtle Mexican caramel.
Pastel Tres Leches
.
Flan
.
Fried Ice Cream
.
Margaritas
Frozen Mojito Margarita
.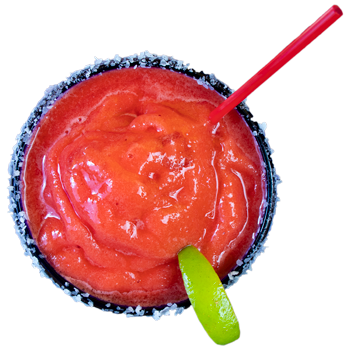 Frozen Strawberry Margarita
.
Virgin Margarita
Alcohol free with your prefered flavour: Lime, Guava, Mango, Strawberry!
Beer Margarita
Lime margarita with a coronita.
Daikiris Margaritas
Rhum and your flavour!! Lime, Guava, Mango, Strawberry!
Traditional Margarita
On the rocks, lime, tequila and triple sec.
Special Margarita
Tequila, Grand manier, triple sec, and lime.
Jalapeño Margarita
Tequila, jalapeño, lime, cucumber and pineapple.
Mojito Margarita
Tequila, fresh mint, lime juice and agave syrup
Mago Spicy Margarita
Tequila, mango and jalapeño
Tamarindo Margarita
Tequila and Tamarindo
Grape Fruit Margarita
Tequila, grape fruit and lemon juice
Piña Colada
Rhum, coconut and pineapple juice.
Paloma
Tequila, grape fruit, lime juice.
Sangria
Red sangria, and White sangria. A pitcher or just a glass?
Wine, Beer & Tequila
Red wine
.
White wine
.
Mexican beers
Corona, Sol, Modelo especial, Negra Modelo, Dos equis XXL, Dos equis ambar, Tecate
Michelada
Lime, tabasco with worcestershire sauce, and your choise of beer
HangOver Michelada
Lime, tabasco, clamato with worcestershire sauce, and your choise of beer
Tequila Shot
Cuervo especial, Sauza, Hornitos, Herradura, Milagro, Jimador.
Drinks & Coffe
Special Coffe
All coffes are made from a latte coffe plus liqueurs and topped with whipping cream.
Café Romántico
Coffe and Grand Marnier.
Café Fiesta
Khalua and Baileys.
Café Nochero
Khalua, Brandy and Amaretto.
Coffees
Regular, Espresso short, Espresso double, Latte and Cappuccino.
Teas
.
Soft Drinks
Coca-Cola, Diet Coke, Sprite, Ginger Ale, Club Soda, Perrier, Orange juice, Cranberry juice, Ice Tea.
Mexican Pop
-Jarritos-
Tamarind, Mandarina, Lime and Guava.